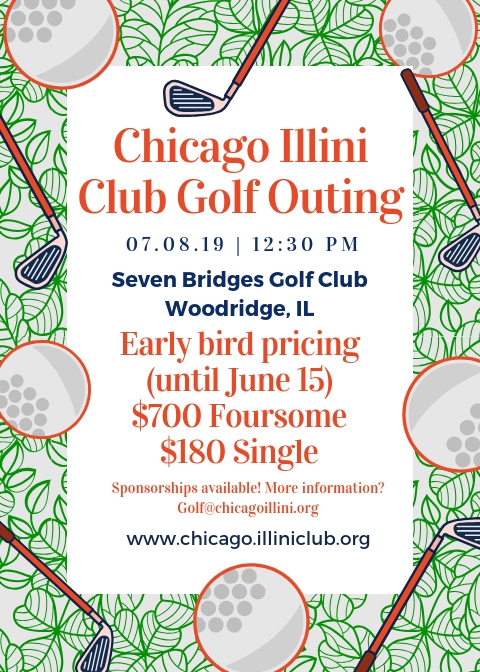 Join us for the 2019 Chicago Illini Club Golf Outing!
Register now for our annual
Golf Outing
on
Monday, July 8th, 2019
! After the last two yearly events at Seven Bridges, we're looking forward to getting out on the course again this summer.
Challenge yourself and play at the renowned Seven Bridges Golf Club! Enjoy the weather and conviviality by spending time with friends and make new ones playing for some great prizes, a great day and a great game of Illini golf.

Refund & Cancellation Policy
In the event a player must cancel from the event after their card has been charged, a cancellation fee of $25 will be deducted from the total amount as a credit card administration fee. Players who cancel after July 1 will not be granted a refund of any amount.
---
The Chicago Illini Club is a 501c(3) organization. Proceeds from the golf outing are directed to numerous causes,including the James Newton Matthews Scholarship program at the University of Illinois at Urbana-Champaign. All sales are final - no refunds will be given.
Seven Bridges' staff may, in their sole discretion, delay tee times or cancel play for frost, fog or other inclement weather. If playing conditions require cancellation of the Event it will be rescheduled at the first available date that is acceptable to Seven Bridges and the Event Sponsor. If Seven Bridges' staff determines that a 'rain-out' has occurred during the Event, an equitable adjustment will be made by the General Manager of Seven Bridges based on the number of holes played. The Event shall be considered complete and no adjustments made if the field has completed nine holes in the reasonable estimate of Seven Bridges' staff. Rain does not constitute stoppage of play. Seven Bridges' staff will determine whether to discontinue play based on their experience. Unless the course has closed or has been deemed unplayable by Seven Bridges' staff, the Event is expected to continue and no refunds will be given. If rain checks are issued to any individual golfers, they may not be used for future golf events. If there is a 'rain-out' during the event, the dinner portion of the day will proceed as planned.