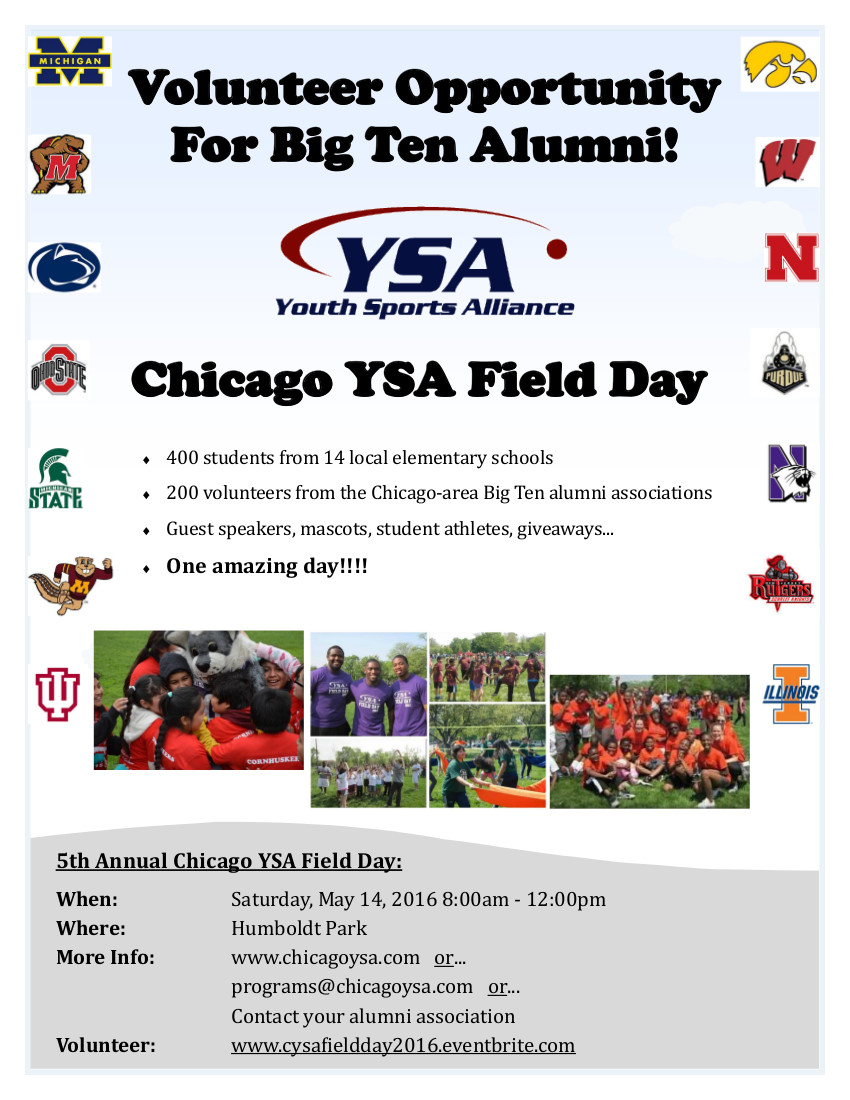 2016 Chicago YSA Field Day Overview
What: Chicago Youth Sports Alliance has collaborated with Chicago-area Big Ten alumni associations to sponsor and organize a one day fitness-based event for the underserved children of Chicago. The Field Day will promote the importance of health and physical activity through a series of athletic, educational and team building activities. Additionally, the event will allow approximately 300 students from local school systems to experience the excitement of the Big Ten and learn about the importance of a higher education.
Why: The event allows 3rd - 5th grade children the opportunity to learn the importance of fitness, nutrition, and of course, school spirit through a fun, sports-based program. Chicago YSA Field Day also offers Chicasgo-area University alumni associations a unique opportunity to volunteer and promote their school through community involvement.
Agenda: In order to facilitate the field day, Chicago Youth Sports Alliance is working with the Big Ten alumni associations to organize and lead activities for elementary school aged students. The field day will include the following events and activites:
o Each alumni association (volunteer group of 10-20) will run a rolling 10-minute station throughout day. Representative activities include:
Kick Ball

Obstacle Courses

Relay Races

Water Balloon Toss

Potato Sack Race
o Field Day shirts for all kids
o Guest Speaker
o Field Day athletic bags provided by Chicago YSA
o Alumni association provided University memorabilia (hat, water bottle, lanyard, keychain)
o Informational materials for the kids and families on the importance of nutrition, fitness and
sports safety

Sign up here: http://bit.ly/YSA-2016
Saturday, May 14th, 2016, 8:00am-12:00pm
Humboldt Park
1140 N. Sacramento Ave
Chicago, IL 60622